Videos with Lizz Taylor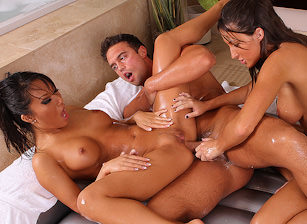 Description :
It has been a long time since Asa and Lizz got together. They are thrilled to sit together in the hot Jacuzzi while they wait for Asa's boyfriend. Their plan is to surprise him when he arrives, but they decide to warm up while they wait. The two babes remain in the hot tub while they start playfully kissing and licking each other. When Asa's boyfriend finally arrives, he is shocked to find her licking her friend's pussy. She tells him that they wanted to surprise him and ask him to join them in the Jacuzzi. Then they move this hot action to the air mattress. At first, Lizz shoves an anal plug into Asa's hot ass, but then she pulls it out and lets the man take over with his hard cock.
Categories :
Kissing
,
Pussy Licking
,
Asian
,
Toys
,
Cum in Mouth
,
Jacuzzi
,
Threesome
,
Lesbians
,
Swallow
,
Ball Sucking
,
Footjob
,
Anal
,
Massage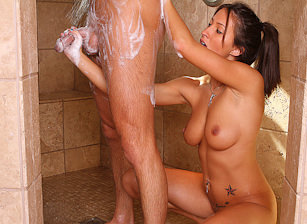 Description :
Alex is ecstatic when he arrives at the soapy massage parlor and meets the sexy Lizz. He complains about some shoulder pain but requests his 'usual' treatment with some extra care down there. Lizz naughtily leads him to the steamy shower, where she lathers herself up and rubs her hard body all over his. Lizz enjoys it when Alex grabs her perfect tits and rubs his cock on her perfect ass. She then soaps herself up on the air mattress and leaves him horny in the shower. Finally, she asks him to join her and he gets the best massage he could have ever hoped for complete with tit rub, soapy handjob, and hot deep throat until his magnificent cumshot.

Pictures with Lizz Taylor