Videos with Annie Cruz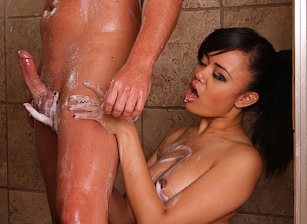 Description :
Eric arrives the massage parlor looking for a relaxing treatment. He meets Annie at the door and after a short conversation she realizes that Eric suffers from a chronic rest disorder. As the massage begins Eric gets erected but snoozes over and over again, Annie decides to get him super horny on the air mattress in hopes that it will keep him up long enough to experience the happy ending.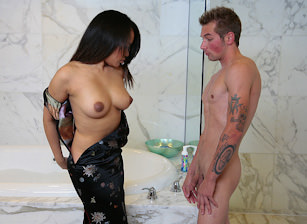 Description :
Annie welcomes Brian to the massage room, she explains about the different massages and asks if he would like the happy ending as well. Brian declines saying he only wants the body massage. Annie strips slowly and takes Brian for a hot soapy shower, she washes him and starts playing with his cock to tease him, she then asks him to soap her entire body. They move to the jacuzzi for a fun and relaxing treatment and then to the air bed. Annie starts by sliding on him and then switches to the 69 position having her wet pussy rub against his cock. Brian cannot resist and asks Annie if he can penetrate her, Annie says no and gives him an explosive soapy handjob instead.

Pictures with Annie Cruz