Videos with RayVeness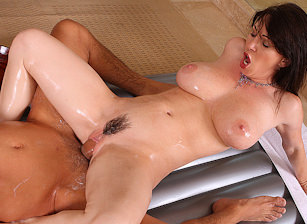 Description :
As they work out in the gym Rayveness sees that Alex is suffering from intense shoulder pain. She runs a very unique masseuse business and she has the skills to help relieve him of that injury. She gives him a business card and suggests he come by for a treatment. A little later he shows up at the massage parlor and she takes him into the shower room. He's a little surprised when they both get in the shower naked but he wouldn't turn that down. Once they're clean Rayveness brings him to the hot tub where she begins her treatment. It gets lusty and before long they're on the air mattress taking it all the way.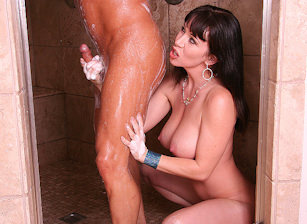 Description :
Rayveness shows once again why she is one of the best massueses around, she takes Marcus upstairs and undresses him gently, then she teases him with her perfect natural DD, at the shower she soaps up his body, lick his hard cock and then puts her tits to use. In the jacuzzi Rayveness gives Marcus a footjob followed by some hot body sliding and a happy ending on the air mattress.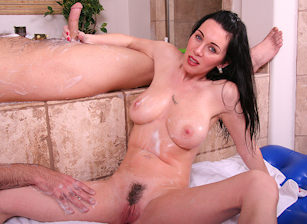 Description :
Eithan has had a lot of work going on lately as a plumber, many emergencies happening and getting calls all the time to come and help. He was in a house near Soapy Massage recently and thought about stopping back there when some time off came up to see what it was like. When knocking on the door, Rayveness answers it to greet him. They sit on the sofa and discuss a soapy massage theraphy with a happy ending Eithan is not likely to forget.

Pictures with RayVeness