Videos with Kortney Kane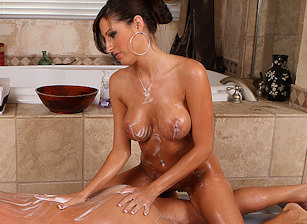 Description :
Eric came into the Soapy Massage Parlor with his bottled water delivery and was met at the front desk by the sexy Kortney. He tells her that they owe him $400 for all the past deliveries that he has made that they never paid for. She tells him she will get the money and goes upstairs where instead of paying him she gets in the shower and starts playing with herself. He gets sick of waiting for her return so he goes upstairs and catches her in action in the shower. She suggests that he join her in shower instead of paying the bill and he jumps at the chance. He gets into the shower and she quickly soaps him up and rubs him then she goes right to his hard dick and starts to suck. She takes him to the mattress where she slides her tight body up and down his back. She rolls him over, sucks and strokes his cock and works it with all she has as she milks every drop of jizz out of him while he cums all over her. It was a massage that was well worth $400.
Categories :
Kissing
,
Pussy Licking
,
Big Tits
,
MILF
,
Shower
,
Body Massage
,
Handjob
,
Blowjob
,
69
,
Cum in Mouth
,
Massage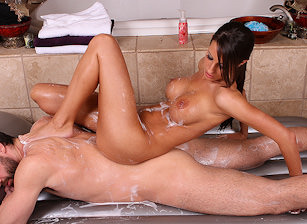 Description :
Charles lives in the woods. He comes down from the hills once a month to visit the city. On this visit he decides to stop in on the Soapy Massage. He rushes the parlor like a caveman and encounters Kortney. He pays Kortney in cash and they both head upstairs. They both undress and enter the shower and Kortney senses that it's been quite awhile that Charles hasn't been with a woman. So not wasting any time she takes extra special care to massage him and pay attention to his hard throbbing cock. She rubs her big tits across his cock making it throb even more. She turns around and rubs his cock along her amazing ass making him extremely horny. They quickly move to the mattress where Kortney slides all over his body turning him on even more. She moves down to his cock and decides to release the huge load of cum he has to offer.

Pictures with Kortney Kane